Key Issues
The VCS 2014 identifies five key issues that need to be addressed if our coast is to continue to provide benefits to all Victorians in the future:
Managing population growth
Adapting to a changing climate
Managing coastal land and infrastructure
Valuing the natural environment, and
Integrating marine planning
Both the natural and built environments on the coast are under pressure from population growth, the competing demands placed on such a limited resource, a changing climate, ageing infrastructure, and at times, fragmented governance systems and financing arrangements.
The Strategy provides policies and actions for managing these pressures so that the coast can remain biologically and culturally healthy, rich and diverse both now and in the future. With the Victorian planning system, it also provides for a framework for sustainable residential, recreational and economic development on the coast.
This section of the VCS 2014 provides a summary of five key interrelated issues. They need to be addressed to ensure the coast's biodiversity is protected and its other attributes can continue to be enjoyed into the future. Reflecting their interrelationship, desired outcomes and actions arising from these key issues are highlighted at the end of this section of the Strategy.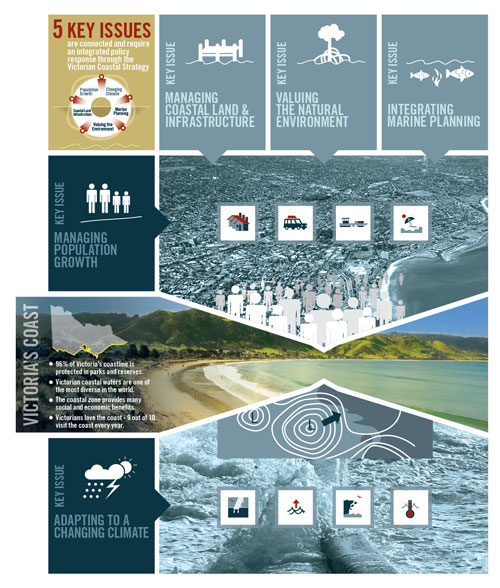 Page last updated: 12/06/19