While Victoria has a long history of weather variability such as storms, droughts and floods, climate change is projected to increase to coastal environments through drivers such as sea-level rise, change in wave direction and increases in swell energy and storm tide events (Figure 1). These drivers affect coastal erosion, sediment supply and inundation and are expected to vary geographically across Victoria's coastal zone.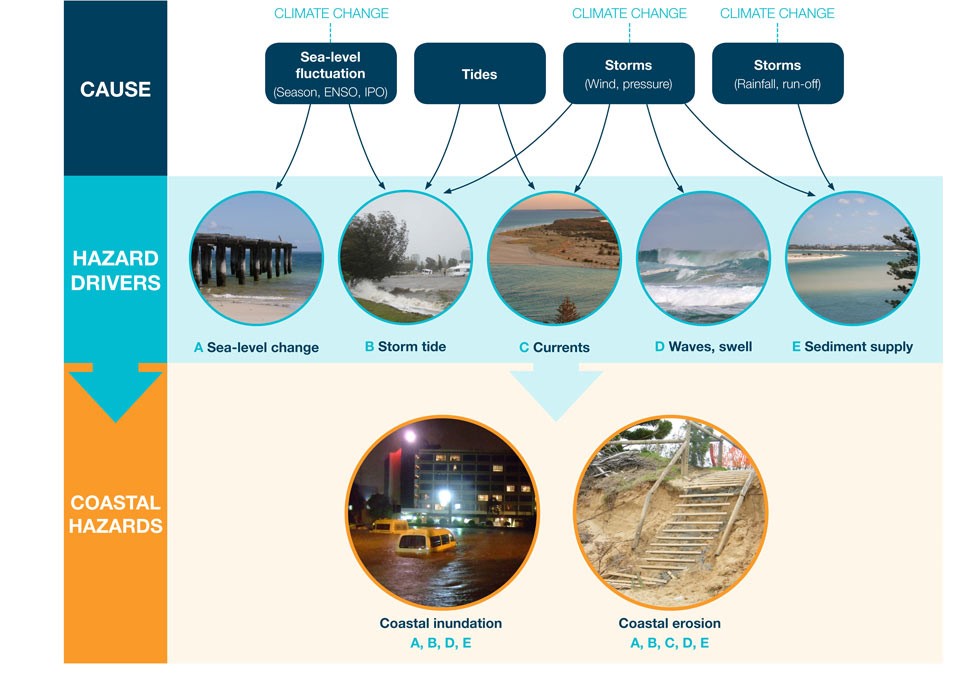 Figure 1: Summary of the causes and drivers of coastal hazards
The Victorian Coastal Monitoring Program (VCMP) commenced in 2016-17 with funding phased to 2021-22. The program has established two significant co-investment projects with universities, local government and citizen science volunteer groups:
The Improving Coastal Erosion Assessments project committed $4.0 million in 2017 from the government to leverage a further $3.8 million from university partners to establish monitoring sites across multiple locations of Victoria's open coast; Western Port and Corner Inlet to 2021. In 2018, a further $0.2 million was invested from the Port Phillip Bay Fund, with matching contribution of $0.2 million from a university partner, to initiate monitoring at Mount Martha and the Bellarine Peninsula. In 2020 the VCMP was expanded at additional monitoring sites in Port Phillip Bay with an additional $0.625 million government funding and $0.2 million from university partners. A further $0.23 million was provided in 2021 to maintain the VCMP to 30 June 2022.
The Coastal Wave Monitoring and Sea Level Rise Modelling project committed $0.9 million by government to leverage co-investment of a further $0.9 million from university partners to monitoring Victoria's coastal wave climate in offshore waters to improve the predictions of future sea level rise, storm surge wave height and wave directions. This offshore program of monitoring was completed 30 December 2021.
In 2020, the VCMP was dually awarded the Victorian Marine and Coastal award and the national Department of Industry, Science, Energy and Resources Eureka Prize for Innovation in Citizen Science.
There are many projects involved in the VCMP, but each are complementary to provide Victoria with the most comprehensive assessment of coastal processes ever undertaken. View the program design here (PNG, 457.4 KB).
What is being monitored?
The VCMP involves monitoring of wave climate, sediment movement and sediment budgets in priority coastal compartments of Victoria's open coastline, Western Port Bay and Port Phillip Bay. Knowledge of sediment budgets help us to identify which areas of Victoria's are likely to lose or gain sediment under sea level rise and changes to wave directions (Figure 2). This assessment is crucial for understanding current processes and predicting future effects to undertake informed coastal adaptation planning and investment.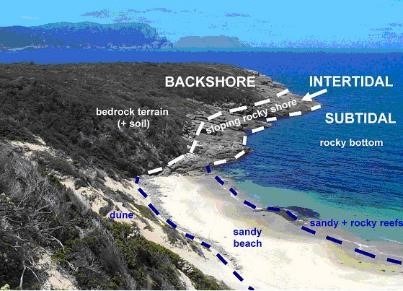 (a)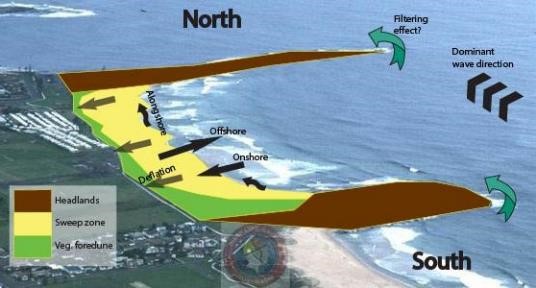 (b)
To understand how sediment moves in a coastal compartment, monitoring must be undertaken across the entire shoreline (backshore, foreshore, intertidal) and in the adjoining seabed (subtidal) which is underwater (a). Sediment will move perpendicularly back and forwards across the shoreline and adjoining seabed, and longitudinally across the shoreline and adjoining seabed (b).
Play the short video below to see how the volume and extent of beach sediments changed on Warrnambool's shoreline after a storm surge event in 2014.
Improving coastal erosion assessments on open coast shores
Deakin University (marinemapping.org) and Melbourne University (The Coastal Lab Victorian Coastal Monitoring Program) are leading monitoring of wave dominated shorelines. They are collecting data on the change in height, extent and volume of sediment on beaches and shoreline, and the sediment dynamics in the adjoining sub-tidal waters using a variety of remote sensing imagery techniques and sediment sampling.
Their program involves four themes, with several projects being undertaken concurrently for each theme that will address key gaps and provide benefits for coastal management and adaption planning (Table 1).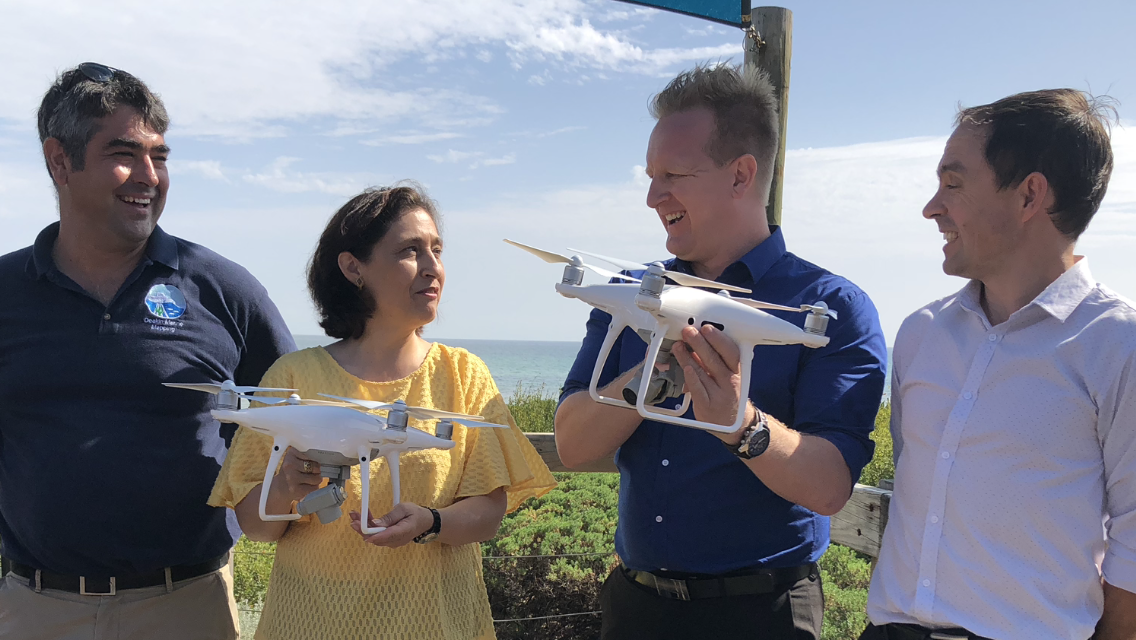 Find out more about the open coast program:
To understand more about coastal erosion:
Need

Gaps to be filled

Benefits

Example Projects

Theme 1: Shoreline sediment dynamics

Beaches are dynamic, yet whether they are prograding or receding is mostly unknown. The impact of storms, specifically how much sediment movement is natural is unknown.
As a result, human infrastructure is often placed in the current hazard zone and we are unable to differentiate between the impact of 'normal' storm events and shifts associated with climate change.
The interconnected nature of beach systems is recognised in the 'coastal compartments' mapping of NCCARF; however, the degree of sediment movement between compartments is unknown.

Long term rates of coastal change and vulnerability to erosion of individual compartments.
Size of 'storm bite'
Degree of connection between compartments.
Clarification of boundaries between coastal compartments integrating seabed mapping knowledge.

Establishment of benchmark information for relevant stakeholders.
Ability to quantify both short- and long-term rates of coastal change.
Identification of key timescales of vulnerability of Victorian beaches for development of hazard assessments

UAV Contribution to Coastal Compartments (Pucino et al. 2019) (PDF, 4.1 MB)

Hyperspectral Remote Sensing of Coastal Morphodynamics (Pucino et al. 2019) (PDF, 3.5 MB)

Shoreline fluxes in Lady Bay, Warrnambool (Bhatt 2019) (PDF, 637.1 KB)

Volumetric calculations using historical aerial photographic archive: moving beyong shoreline extraction in coastal Victoria (Carvalho et al. 2019) (PDF, 4.6 MB)

Mobility of active coastal dune system in Victoria, Australia: An example from Cape Woolamai (Gao et al. 2019) (PDF, 1.9 MB)

Coastal barrier evolution in Gippsland region over the Last Interglacial and Holocene (Kennedy et al. 2019) (PDF, 2.2 MB)

Quantifying historic erosion rates along Victoria's Coastline (Konlechner et al. 2019) (PDF, 2.9 MB)

Modern Dune Dynamics on the Inverloch Spit (McGuirk et al. 2019) (PDF, 3.1 MB)

Theme 2: Marine (subtidal) sediment dynamics

Beaches respond to storms through transferring sand from their upper (subaerial) to lower (marine) components.

The beaches above normal waves are therefore a small component of the entire profile. The subtidal component is therefore more critical to the long-term stability of sandy shores.

At present we only have a single snapshot of part of the marine component of beaches, collected 10 years ago.

No information is currently available on sediment thickness – and therefore the actual volume of sediment on the coast.

The offshore extent of beaches.

Volume of sand present on the coast.

Decadal scale stability of the marine component of the coast.

Quantification of the degree of connection between coastal compartments.

Sediment composition of the coast

and link to the terrestrial component

Quantification of the degree of geological constraint of Victorian beaches. This will allow the veracity of applications of commonly applied engineering models of shoreline retreat which assume an entirely sandy profile to wave base.

Establishment of benchmark data on the volume of sandy present on the coast and therefore the capacity of beaches to adjust to future environmental variations.

Validation of compartment boundaries that form the basis of NCCARF coastal modelling through integration of seabed mapping data initiatives.

Deakin Marine Mapping is a group of researchers from Deakin University led by Daniel Ierodiaconou focusing on mapping the seafloor and coastlines of Victoria and beyond, see their website here.

Theme 3: Coastal compartment modelling and visualisation

Standard coastal analysis generally models systems based solely on their subaerial or marine components.

A detailed analysis that includes the extraction of short term and long-term shoreline position, computation of new shoreline rates of change, correlation of shoreline types and setting.

A pilot demonstration on how high-quality physical data can be incorporated into comprehensive numerical modelling systems that integrate multi-dimensional onshore/offshore and longshore fluxes of sediment.

Agent Based Modelling performed as a demonstration on a select key area within priority compartments and as an exemplar approach for risk modelling and assessment for integrating spatially explicit data in a dynamic framework.

Appling the latest numerical modelling techniques to the Victorian coast.

Integration of wave and tidal data with shoreline and compartment morphological results.

Applying historical changes in shoreline positions to project future positions along shore. (This includes using the rate of change of natural, unarmoured shorelines to correlate the type of shoreline hydrodynamics and wave climate which will provide insight into the process of shoreline change and will identify those shoreline types and areas at risk of severe erosion).

Predicting future geomorphological change along Victoria's Coastline using numerical modelling techniques (Morris et al. 2019) (PDF, 3.1 MB)

Coastal Compartment Modelling and Visualisation (Morris 2019) (PDF, 2.2 MB)

Theme 4: Coastal monitoring using unmanned aerial vehicles (UAVs) & citizen science

Engage the community in coastal management and research.

Develop a citizen-science based program of excellence.

The development and implementation of an UAV citizen science training program.

The development of a UAV web data portal for cloud processing and data access.

Development of methodologies for automated extraction of biotic from abiotic factors in remotely sensed UAV & multibeam SONAR data.

Development of a methodology for analysis of UAV data that is accessible to the general public and scientifically robust.
- Understanding the role of abiotic and biotic factors in stabilising sediment supply and production.

Development of a sustainable long-term mechanism for citizen science and engagement.

Victorian Coastal Monitoring Program (Allan 2019) (PDF, 3.7 MB)

Citizen Science UAVs for Monitoring Shoreline Change (Allan et al. 2019)
(PDF, 1.3 MB)

Citizen Science and UAVs: How to monitor the Victorian coast (Pucino et al. 2019) (PDF, 3.6 MB)

Deakin Marine Mapping is a group of researchers from Deakin University led by Daniel Ierodiaconou focusing on mapping the seafloor and coastlines of Victoria and beyond, see their website here.
Improving coastal erosion assessments of large embayments (Western Port Bay and Corner Inlet)
Monash University, along with delivery partners Macquarie University, University of Wollongong and University of Melbourne, is leading the monitoring of more sheltered mud flat and vegetated shorelines (mangroves and salt-marsh). Their focus is understanding sediment dynamics and how this influences changes in the extent of mudflats and adjoining saltmarsh and mangrove communities. The project includes improved assessments of coastal acid sulphate soils.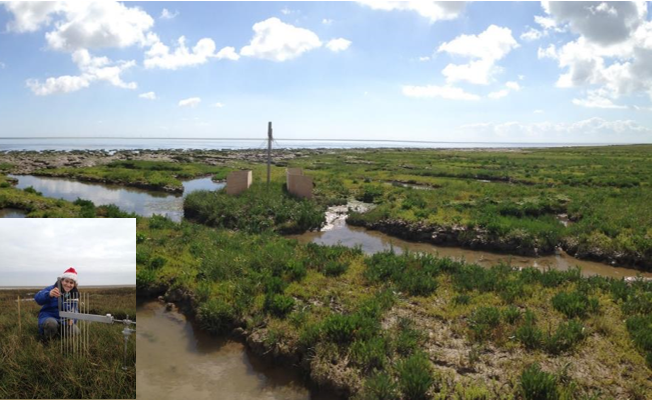 A number of projects have been implemented across four themes which will inform a framework for coastal erosion hazard in Victoria's large sheltered embayments: geomorphic setting, hydrodynamic drivers, sediment dynamics, and coastal acid sulphate soils.
Take a look at the research project summaries (PDF, 181.6 KB).
These investigations will be complemented by a citizen science monitoring program (Figure 3).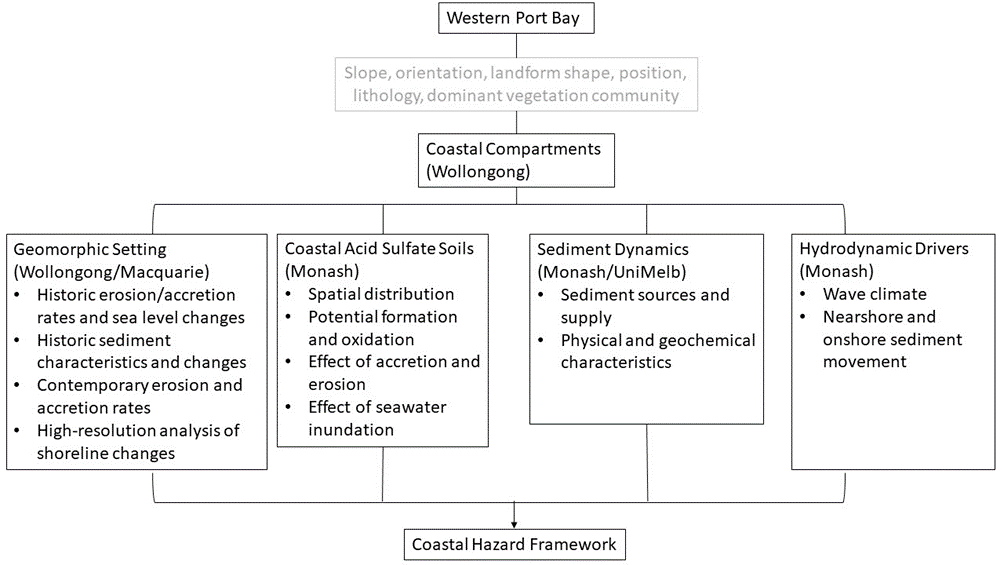 Figure 3: Project themes for the Western Port embayment
This project will focus on Western Port Bay (an international listed Ramsar site and Global Biosphere Reserve) which is a structurally controlled tidal embayment with varied lithologies, alluvial and aeolian sediments and wetland communities which has resulted in a range of coastal and backshore environments. Four sites will be studied which are representative of the coastal compartments in Western Port Bay (Lang Lang, Tooradin, Rhyll and French Island). A fifth site at Corner Inlet embayment will be used to validate model outputs. Corner Inlet is an ecologically important site and listed as a Ramsar wetland which supports internationally significant aquatic and bird species.
The Western Port embayment project has the benefit of being able to utilise long-term monitoring stations first installed in 2000. Read more about the Western Port embayment project (PDF, 1.6 MB).
By combining father monitoring with additional investigations of the sources and sinks of sediments within the embayment, this will enable improved benefits such as modelling and advice on how shorelines may change in the future (Table 2).
Need

Gaps to be filled

Benefits

Example project

Theme 1: Geomorphic Setting

Shoreline and landform characteristics influence vegetation communities, erosion and accretion rates

Appropriate grouping of similar geomorphic units in Western Port Bay
Consideration of geomorphic setting in the smartline dataset
Identification of vegetation types and physical attributes in the smartline dataset

Incorporation of geomorphic information into the smartline data will allow for consistent inputs into modelling and predictions of shoreline changes in the future
Identification of geomorphic units will allow for forward projections of sediment movement
Model morphological changes in the nearshore area using parameters established for each geomorphic unit using open source software (XBeach model)

Westernport Bay Coastal wetland geomorphology (Rogers and Saintilan 2019) (PDF, 6.1 MB)

Theme 2: Hydrodynamic drivers

Role of waves is critical in erosion processes
Effects of waves varies with shoreline characteristics

Data for drivers for wave formation such as wind direction and wind speed
Data for surface roughness
Understanding of the interaction between waves, inundation, marsh platform

Improved parameterization of inputs for coastal chance models to predict future impacts
Improved ability to model nearshore environments using open source software (Delft 3D Wave model)

Theme 3: Sediment Supply

Transport of sediment is critical to eroding or accreting shorelines
Understanding how the elevation and morphology of the shoreline changes over a range of timescales is important in how sediment is transported
Determining the available accommodation space in an embayment, which is constrained by the catchment and tidal regime, is important affects the area available for wetland migration

Identification of sources and sinks of sediment
Quantification of erosion and accretion rates over different timescales, from seasonal and annual variation so to longer term trends
Understanding how sediment supply influences coastal acid sulphate soil formation
Quantification of surface elevation changes due to limited number of SET sites established in Western Port Bay
Identification of the role of autochthonous sediment contribution to surface elevation changes
Correlation between suspended sediment concentrations determined from remotely-sensed data and nearshore sediment availability and characteristics
Variation and magnitude of changes in the shoreline over the time period when aerial photography has been available

Development of a technique to monitor long term suspended sediment concentration variations using remotely-sensed data
Establishment of additional long-term monitoring sites for surface elevation changes in representative geomorphic units; sediment exchange between the nearshore and intertidal zone monitored under current conditions can be used to determined variations over shorter (seasonal) time frames
Parameterisation of accretion and erosion processes based on geomorphic units for improved accuracy in modelling and scaling

Wave s+ Hydro-Sed (Reef 2019) (PDF, 3.8 MB)

Coastal Acid Sulfate Soils (Wong 2019) (PDF, 3.3 MB)

Theme 4: Citizen Science Monitoring

Engage the community in management, monitoring and research in the coastal zone
Provide additional observation points for change detection in the coastal zone

Event-based data on the shoreline, such as following storm-surge or coastal flooding, is patchy and inconsistent
Variations in the high tide mark in high temporal and spatial resolution is limited

Improved understanding of the height and variability of high tide and proximity to important infrastructure
Improved understanding of variability in tidal cycles vs storm surge events
Establishment of long-term monitoring sites for shoreline profile changes

MangroveWatch is a not-for-profit organisation that focuses on the research, education and conservation of mangrove and tidal wetland environments globally. Much of our work is channeled through our flagship program that is built on partnerships between scientists, community volunteers and traditional owners, see MangroveWatchers!
More information
For more information about the Victorian Coastal Monitoring Program, please email vcmp@delwp.vic.gov.au.
For comprehensive information on climate change and coastal environments, including information about adaptation planning, please visit the National Climate Change Adaption Research Facility website. The website offers a wide range of information materials, tools and datasets for coastal risk assessment and adaptation planning, including CoastAdapt.
Page last updated: 21/04/22