Applications for the Coastcare Victoria Community Grants 2020 have been extended - closing on Friday 15 May 2020 at 5:00pm.
The Coastcare Victoria Community Grants program supports community organisations to protect and enhance the coastal and near-shore marine environment. The program is funded by the Victorian Government's Sustainability Fund which seeks to build community capacity, support community adaptation and improve ecosystem resilience to climate change.
How much funding is available?
Grants of up to $30,000 per project are available.
What types of grants are available?
Two categories of grants are available in 2020:
1. Stewardship and Education
2. Strengthening Our Volunteer Groups
Key dates, guidelines, FAQs and apply
Coastcare Victoria Community Grants online Q&A - Thursday 7 May, 10:00
With a high volume of questions and enquires around our grants program this year we have extended the 2020 Coastcare Victoria Community Grants application closing date to Friday 15 May, 5:00 PM.
To help with your questions and enquires we held a grants online Q&A session on Thursday 7 May. You can watch the video to see hear a grants update, questions and answers here: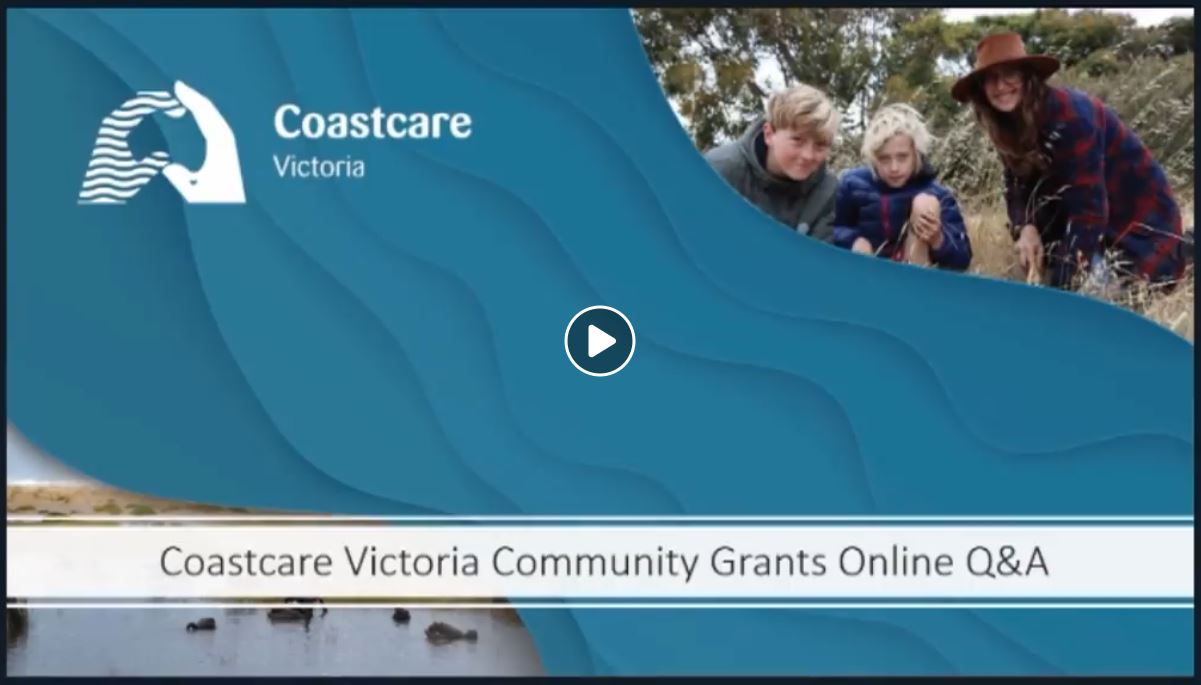 There were a few questions we weren't able to get to in the live session. You can see those questions and responses here:
Additional Questions and Answers 7 May 2020 - Word
Additional Questions and Answers 7 May 2020 - PDF
---
Short videos for application tips, project ideas and inspiration
Video: Grant application tips (9:07) - watch here
Naomi Wells from Bellarine Catchment Network (BCN) shares the key elements of their successful 2019 Coastcare Victoria grant application.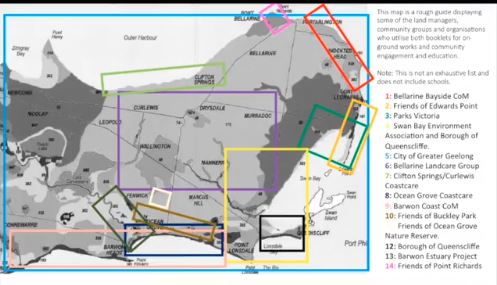 Video: Project ideas (9:30) - watch here
Port Phillip EcoCentre - Neil Blake and Reiko Yamada of the Port Phillip EcoCentre share some citizen sciene and community engagement projects from the past 10 years.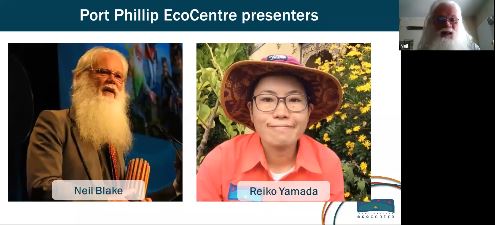 Got grants questions for BCN, Port Phillip EcoCentre or the Coastcare Victoria team? Submit your question now via Slido using event code E419
---
Contact your local Coastcare Victoria facilitator if you'd like to know more about the Coastcare Victoria Community Grants program:
Port Phillip Bay and Westernport
Phillip Wierzbowski
Phone: (03) 9450 8793
Gippsland
Bethany Hunting
Phone: 0436 629 941
Coastcare Community Grants 2019 recipients
| Organisation | Project |
| --- | --- |
| Beach Patrol 3280 | Stop the POP (Plastic Ocean Pollution) |
| Bellarine Bayside Foreshore Committee of Management | Northern Bellarine Red-Capped Plover Community Education |
| Bellarine Catchment Network | Creating our Future Coast-carers |
| Bellarine Landcare Group | Coastal and Inland Plants: Booklets for the Bellarine Peninsula. |
| Earthcare St Kilda Inc | St Kilda Penguin Visitor App |
| East Gippsland Rainforest Conservation Management Network | Chinamans Creek Rainforest Recovery |
| Friends of Beware Reef | Improved Macro Video Enabled |
| Friends of Chinamans Creek Inc | Chinamans Swamp Skink Habitat Restoration Project |
| Friends of Earimil Bluff (MEAFEC) | Protecting, Extending and Interpreting Biodiverse Botanical Reference Area Earimil Bluff |
| Friends of Flinders Coastline Inc | Coastal Flinders Restoration Project |
| Friends of Mallacoota Inc | Rehabilitate Gabo Island |
| Friends of the Prom Inc | Sea Spurge Removal Stage 2: Restoring Hooded Plover Habitat at Squeaky Beach |
| Friends of Williams Road Beach (Mt. Eliza Association for Environmental Care) | Furthering Resilience at Steep Locations and Enhancing Site Understanding of Scouts, Mt. Eliza Foreshore |
| Gippsland Plains Conservation Management Network (CMN) | Eagle Point Enhancement and Education |
| Harmers Haven Residents and Ratepayers Group - Friends of Harmers Haven | Eradicating Cape Honey Flower at Harmers Haven |
| Harmers Haven Residents and Ratepayers Group - Friends of Harmers Haven | Continuation of Successful Sea Spurge Control on Primary Dunes at Harmers Haven |
| Jan Juc Coast Action | Caring for Jan Juc's Heathlands |
| Johan De Bree | Wells Street to Beach Street Foreshore Rehabilitation Project |
| Killarney Coastcare Group | Belfast Coastal Reserve Spring Planting 2019 |
| Making a Difference for the Merri (MAD) Landcare Group | Woollen Mill Riparian Restoration - Merri River |
| McCrae Homestead Coastal Group Inc | Protecting Coastal Banksia Woodland and Revegetating Degraded Spaces - McCrae Foreshore |
| Marine Education Science and Community Centre Inc (MESAC) | MESAC - Who Are We and Why Are We Important to Our Oceans and Community? |
| North Geelong Secondary College (NGSC) Green Action Project | The Green Action Project/ North Geelong Secondary College |
| Safety Beach Foreshore Landscape Committee Inc | Coast Care Safety Beach 2019/20 |
| South West Environmental Education Inc | Fawthrop Lagoon Restoration and Revegetation Project |
| Torquay Landcare Group Inc | Spring Creek Our Hidden Jewel |
| Victorian National Parks Association | Great Victorian Fish Count |
| Victorian Wader Study Group Inc | Sustaining Long-term Studies of Waders and Terns in South East Australia |
| Warrnambool Coastcare Landcare Network | Thunder Point Coastal Reserve Conservation Project 2019 |