CoastKit provides an online data repository of Victoria's marine and coastal information. CoastKit promotes standardised data classification for collection, reporting, monitoring, assessment and evaluation.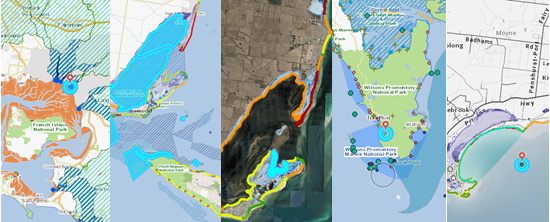 In CoastKit you can zoom, explore and overlay maps, identify features, and create printable maps and images.
CoastKit uses these themes:
Beaches of Victoria
Coastal Assets, Infrastructure and Shorelines
Coastal Hazard Assessments
Coastal Wetlands and Waterways
Fish Habitat Distribution Maps
Marine and Coastal Feature Atlas
Port Phillip Bay Environmental Management Plan (EMP) - spatial representation of project and activity locations that occur within Port Phillip Bay and its catchments.
Victorian Biotope Atlas
Planning and Administration
Bathymetry and Topography
You can find all CoastKit datasets in the Victoria Spatial Data Library. This aligns with data sharing standards.
CoastKit how-to series
Watch the videos below to find out more about CoastKit and how to use it.
Page last updated: 20/05/23