The Victorian Coastal Monitoring Program (VCMP) runs, supports and funds many research projects. On this page you will find both projects we are currently working on and projects we have previously delivered.
Erosion Warning Indicators
There are many ways to monitor coastal change yet there is no single metric that can assess all aspects of coastal erosion, e.g., short-term vs. long-term or broad-based vs. hotspot erosion.
To address this issue, the VCMP have developed a suite of Coastal Erosion Indicators (PDF, 18.3 MB), using drone and satellite data, to aid in coastal management, policy and planning. The Coastal Erosion Indicators will soon be available to be viewed on CoastKit.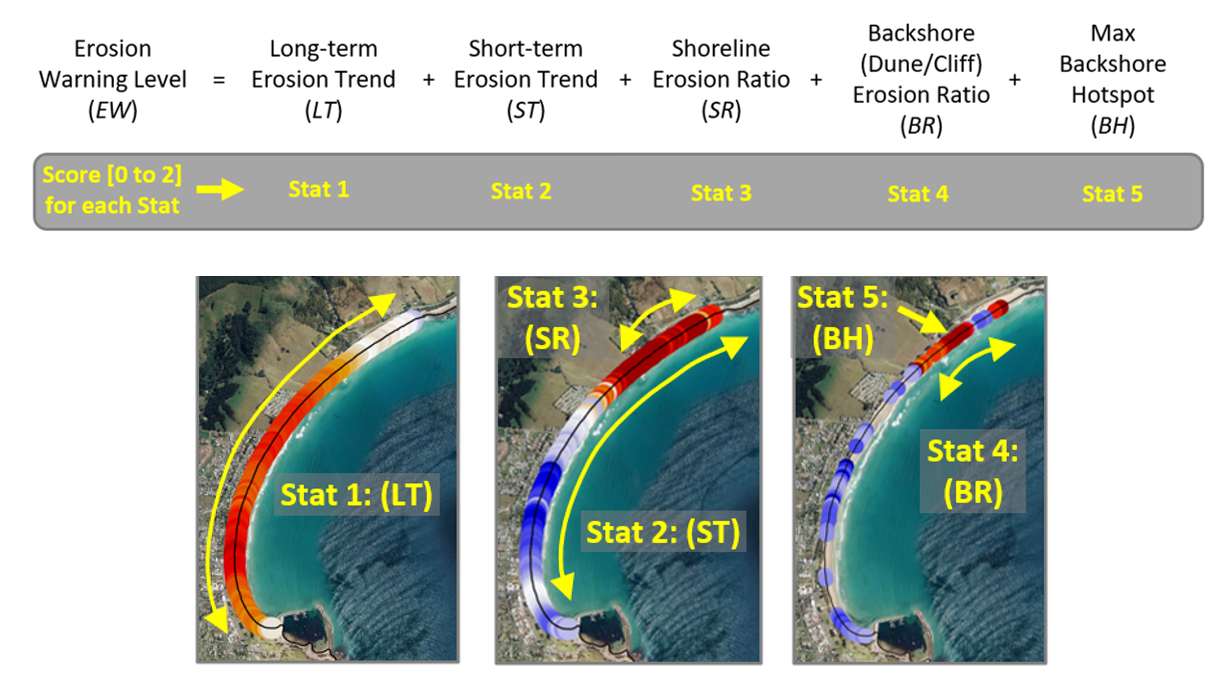 The Coastal OmniLine and OmniSites
Modelling coastal hazards requires a wide array of data products, including shoreline monitoring (e.g., by drone, satellite, lidar), ocean dynamics (e.g., waves, tides), and geomorphology (e.g., coastal type, sediment size).
The VCMP are producing a data product, called the Coastal OmniLine that interpolates all available coastal data to a single set of shoreline transects, spanning the full extent of the Victorian coastline. The Coastal OmniLine can be used as a uniform basis for further coastal research and planning. Sections of the statewide line covering the VCMP drone monitoring locations, referred to as OmniSite datasets, can be viewed through CoastKit.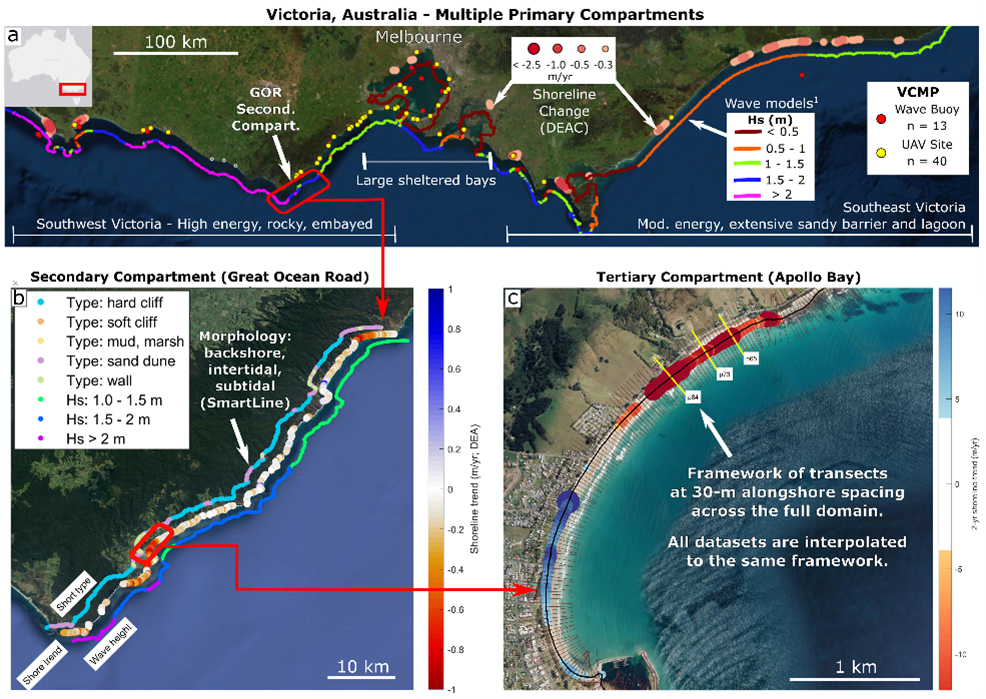 Sediment Mapping - Sources, Distribution and Availability​
This project explores mapping sediment grain size and depth in Port Phillip Bay. A critical element of beach nourishment in Port Phillip Bay is understanding where sand is available, and how much is there.​
At present there are:​
No comprehensive sediment maps for the Bay.​
No bay-wide estimates of sand available for nourishment.​
This project will deliver:​
A sediment map for targeting sand renourishment sources with the Bay.​
Modelling results to determine if sand sources are sufficient for long-term maintenance of beaches (including with sea level rise).​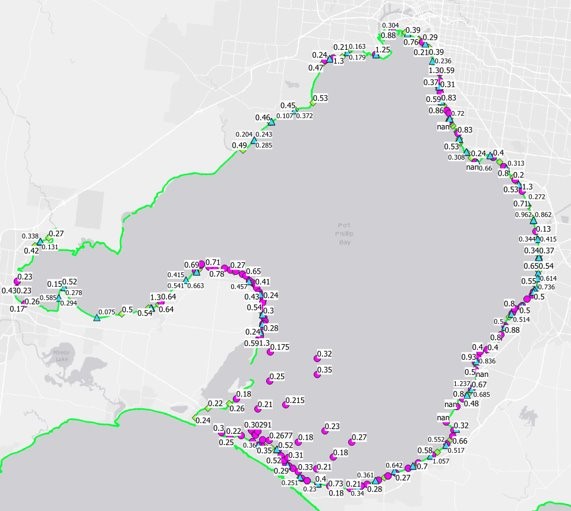 Multi-Model Workflow for Assessing Beach Dynamics
This project focuses on the calibration and application of three different numerical modelling methods to better understand coastal processes on semi-sheltered urban beach system in Port Phillip Bay. The project is being run in collaboration with University of Melbourne, and environmental and engineering consultancy company, Tonkin + Taylor.
This project will:​
Develop models targeted to our planning needs, to improve how renourishments, other coastal projects and hazard assessments are implemented.​
For more information, see Developing a multi-model workflow for assessing beach dynamics (PDF, 89.3 KB) abstract.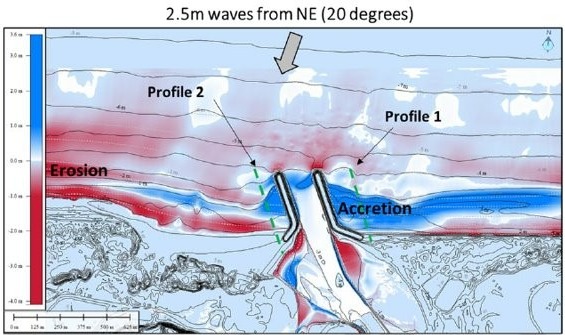 Wave-Hydrodynamic Modelling
This project used hindcast sea state conditions to carry out long-term simulations of the hydrodynamic climate of Port Phillip Bay. The simulations were derived from a coupled high resolution unstructured grid modelling system that merges the 2D circulation model (SCHISM) with the spectral wind wave model (WWMIII). This projected is being delivered by University of Melbourne.
For more information, see the Improvement of Port Phillip Bay coupled hydrodynamic hindcast model (PDF, 62.5 KB) abstract.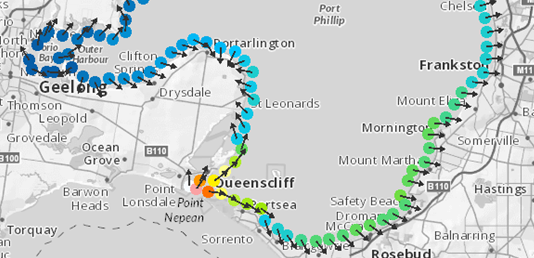 Deakin University is using their mapping vessel, Yolla, to map and take samples of the seafloor off the Victorian coast.
This project will:
Inform nearshore hydrodynamics.
Result in maps that can be used to quantify the availability of offshore sediment supplies.
More information can be found on Deakin's Marine Mapping and Victorian Coastal Monitoring Program - StoryMaps pages.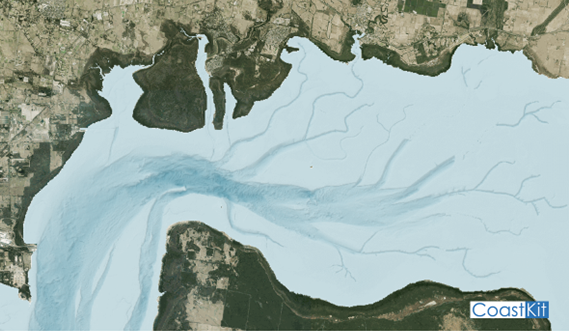 Page last updated: 20/05/23