Erosion is a natural process impacting many parts of Victoria's 2,500 kilometres of coastline.
It is a challenge faced by coastal communities across Australia and the world.
Waves, wind, rain, and tides all impact the location and rate of erosion.
Coastal environments are also under pressure from
climate change
growing populations
increased visitation
historic planning issues.
What causes coastal erosion?
Coastal erosion is part of a natural cycle whereby sand is constantly building up or being eroded by waves, wind, rain and tides.
Storms can also cause erosion because they can generate increased wave and wind energy that impact the coastline, causing the rapid removal of sand.
Cliff collapses, also known as cliff failures, can occur when the internal strength of the cliff formation is reduced and it can no longer support its own weight.
This can occur when the cliff is exposed to:
erosion at the cliff base
changes in moisture content (drying or wetting)
extreme heat and cold
large rainfall events and erosive water runoff
seismic activity.
Erosion and cliff failures are unpredictable and can occur without warning, posing a risk to clifftop and beach users. Land managers will take action when required to ensure public safety, including closing clifftops or beaches.
Managing coastal erosion
It is preferable to allow natural processes to occur without interference.
However, if erosion threatens community infrastructure, authorities may consider a range of management options.
Working together
To guide decision-making, land managers work together to develop and implement coastal adaptation plans.
These are plans that identify short and long-term options to manage the impacts and protect foreshores, Crown land and critical infrastructure from storm surges, wave attacks and rising sea levels.
Only management options that are technically feasible and that can potentially gain relevant approval under state and federal legislation are considered.
Our approach
Any intervention in coastal environments has pros and cons that can lead to impacts elsewhere, so land managers follow an adaptive or pathways approach to get the facts before committing to any one option.
Land managers use independent coastal and geotechnical engineers to assess natural processes impacting an area and identify all viable options.
These can range from nature-based methods like sand management or actions to protect a site such as groynes or sea walls.
This information gathering process can take time but is an important step to ensure land managers can make the right decision and implement the most appropriate option.
Where an emergency or fast response to an erosion event is required, land managers will consider immediate, short-term actions while the longer coastal adaptation plan process continues.
Community insights
Community engagement is an essential component of finalising the plans.
Local information provides valuable insights into how the community values and uses an area and how coastal environments have changed over time.
What is the 'adaptive' or 'pathway' approach?
All Coastal Adaptation Plans and potential mitigation options are prepared in line with the Marine and Coastal Policy 2020, which aims to reduce environmental impacts through an adaptive approach over new and existing physical infrastructure where possible.
Authorities address and consider actions to manage coastal erosion in the following order, with physical structures like groynes or sea walls the last option.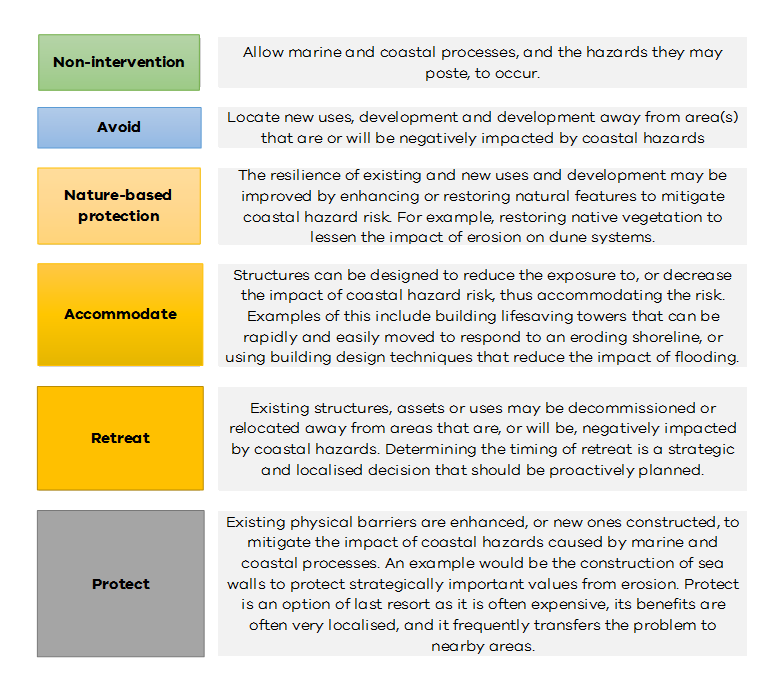 Potential management options
Applying the adaptive approach may result in a mix or multiple options being used over time.
Page last updated: 05/07/23