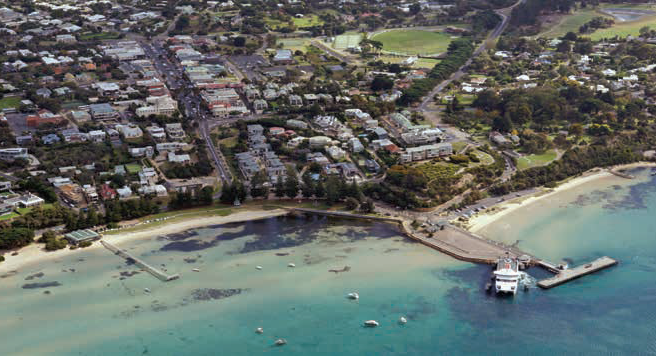 Why do we need a Coastal Hazard Assessment?
Port Phillip Bay is the largest bay in Victoria. It is home to:
thousands of plants and animals
1.3 million people
water sports, beaches, fishing and tourism
shipping.
Like all coasts, Port Phillip Bay is vulnerable to hazards. As sea levels rise, the coast may see increased:
erosion
flooding
groundwater change.
This can threaten communities, assets and ecosystems.
Climate change is increasing how often and to what extent these hazards occur. To understand this, we are doing a coastal hazard assessment for Port Phillip Bay. This will look at the possible extent and impacts of flooding, groundwater change and erosion.
We will analyse data and model a range of climate change scenarios. We will share the data with land managers and the community to help planning .
We're delivering the assessment in partnership with stakeholders. We are working towards consistency in decision-making and management of the coast.
What are our goals?
We're aiming to inform planning and the management of current and future natural, cultural and economic assets. The information will also be used by state, regional and local governments to set priorities.
The project has two components:
Scientific assessment – define how much land is expected to be threatened by flooding, erosion and groundwater change.
Build capacity – support people and groups to use and respond to the findings.
What are the expected outcomes?
build on existing inundation data for the Bay
identify and fill critical information gaps
model future climate scenarios
identify coastal hazards and the extent of potential impact
compile flooding, erosion and groundwater data
produce data, maps and documentation that:

supports stakeholders
are in useful formats to inform decision-making
is useful for a range of applications, including planning and on-ground management
is accessible
has up to date information to inform stakeholders' planning and asset management.
How will it help?
This project will support coastal erosion, flooding and groundwater controls, including:
council planning
designing mitigation activities
developing intelligence products and informing emergency response planning
community education
options for improved warning arrangements
informing coastal asset maintenance and renewal schedules.
How are we developing the project?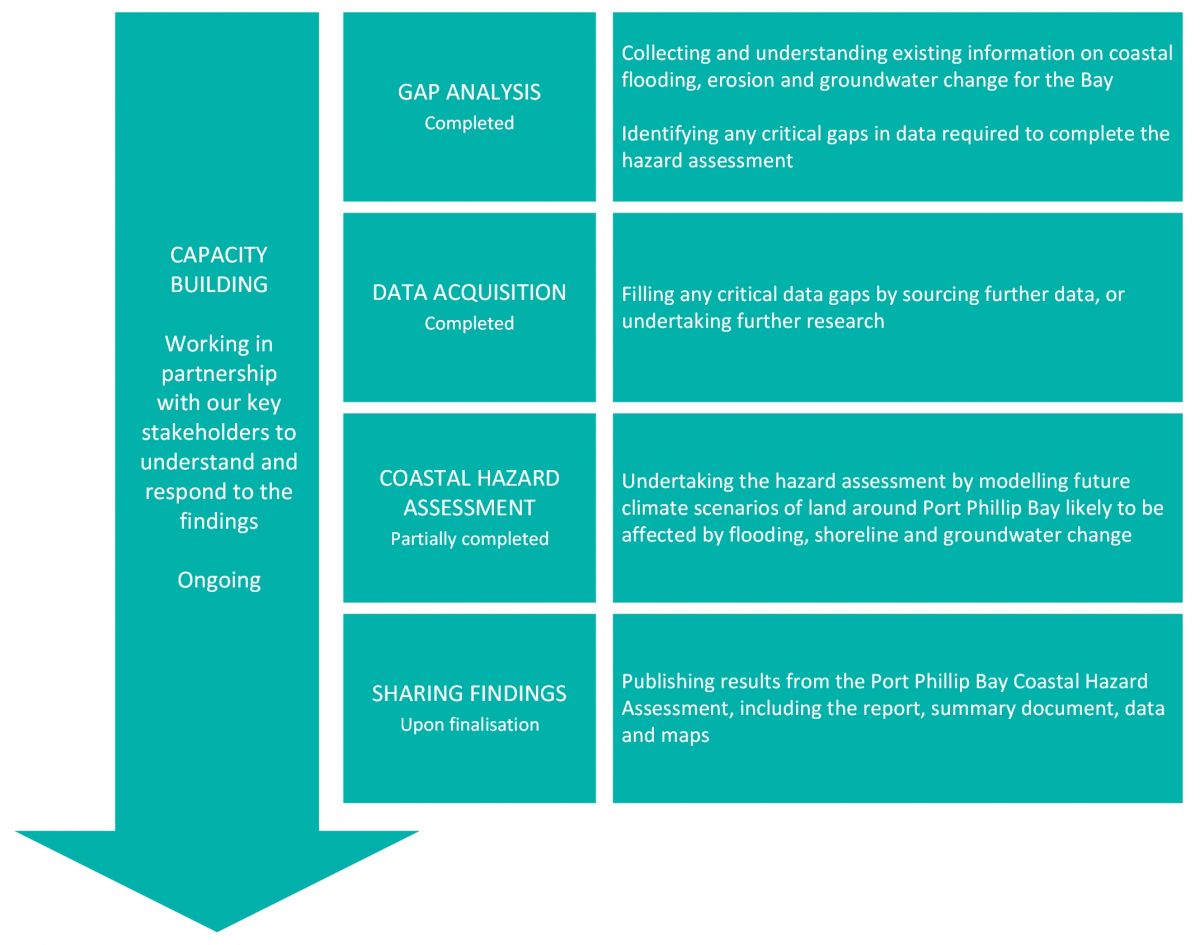 Who's involved?
The project is led by DEECA.
The technical assessment is being carried out by external, independent consultants.
DEECA is working with:
the 10 Bay-area councils
Parks Victoria
Melbourne Water
two catchment management authorities
the Association of Bayside Municipalities
Traditional Owners.
Stage 1: Port Phillip Bay Coastal Hazard Assessment gap analysis
The first stage ('gap analysis') gathered data and identified critical gaps needed to complete the assessment.
Key findings:
Assessing flooding requires knowledge of coastal processes. This includes:

tides
storm surges
extreme rainfall events
waves.

There is enough data to undertake hydrodynamic modelling. We will look at current and future climate conditions.
Dynamic modelling allows more comprehensive hazard assessment.
Conclusion: there is enough information available to do a local scale assessment for flooding.
Assessing erosion requires knowledge of geomorphology. This includes:

sediment and rock
underlying rock characteristics
coastal defences.

We need more data collection and detailed information. The geomorphic assessment will inform models and methods.
Conclusion: we will gather new data on geomorphology. There will then be enough data to assess erosion.
Assessing groundwater change requires knowledge of:

hydrology
geology
aquifers
water usage
landscape feature
salinity
groundwater management practices.

There was insufficient information and data on:

whole-of-Bay conceptual and numerical hydrogeological models
ecosystem services provided by groundwater
social and amenity values supplied by groundwater
cultural and heritage values of groundwater.

There was enough data to develop a conceptual model of the groundwater systems for the whole Bay area.
The gap analysis identified six regions for further investigation, based on:

enough geological and hydrogeological information for conceptual groundwater response models
groundwater vulnerability and potential risk to groundwater resources
groundwater hazard and potential risk to assets.

There are six regions in Port Phillip Bay. Only three had enough data to do a detailed assessment. These were the:

Werribee Delta
Beaumaris to Frankston 'sand belt'
Nepean Peninsula.
Conclusion: there was enough data to construct conceptual groundwater system models for the whole of the Bay area. There are a few areas where more data is available. There are also areas where higher resolution conceptual models could be developed.
Previous experience
The work builds on four pilot coastal hazard studies between 2013 and 2017. Outlined below are some outcomes of these pilots. There are also example outcomes we expect from the Port Phillip Bay Coastal Hazard Assessment.
Source: Local Coastal Hazard Assessment Learnings Project (Gilmour and Healey 2017).
Victorian coastal hazard assessments
We completed statewide assessments in 2017 (PDF, 3.2 MB). This looked at erosion and inundation hazards in future climate change scenarios.
Four pilot Local Coastal Hazard Assessments have been undertaken in Victoria:
Gippsland Lakes/90 Mile Beach
Page last updated: 30/05/23