The coastline around Inverloch, Venus Bay and Anderson Inlet is a beautiful and dynamic part of the landscape. Natural processes such as winds, waves, tides, currents and catchment flows move sand and sediments, reshaping the coastline. These processes sometimes impact on places we value, and the way we use the coast.
The coastline at and around Inverloch has experienced significant erosion in recent years. Public assets, values and infrastructure are now at risk of damage and loss.
To proactively plan for managing future changes to the coastline, we're delivering the Cape to Cape Resilience Project. This project combines the latest science, technical assessments and community aspirations to develop a long-term plan to manage important places, assets and other values in the future.
The Inverloch Regional and Strategic Partnership
Many agencies are responsible for managing coastal and marine areas. A Regional and Strategic Partnership (RaSP) brings these agencies together to respond to key issues. The Inverloch RaSP is the first RaSP established under the Marine and Coastal Act 2018, and has ten partners – Traditional Owners, the Bunurong Land Council Aboriginal Corporation, and nine agencies with responsibility for managing coastal land, assets and infrastructure in the Inverloch region.
The Inverloch RaSP will work with the community to address ongoing and future coastal erosion and inundation impacts. This includes delivering the Cape to Cape Resilience Project.
Cape Paterson to Cape Liptrap - the study area
The study area for the Cape to Cape Resilience Project is between Cape Paterson and Cape Liptrap. The area of interest includes:
The open coast from Cape Paterson along the coastal cliffs adjacent towards Inverloch
The open foreshore and surf beach at Inverloch
The dynamic estuaries and tidal mudflats of Anderson Inlet
The open coast and dunes of Venus Bay south to Cape Liptrap
Inland from the coastline, allowing for assessment of estuary and groundwater impacts.
Once we better understand our hazards and potential at-risk areas along our coastline, we can identify different ways to manage these locations through adaptation.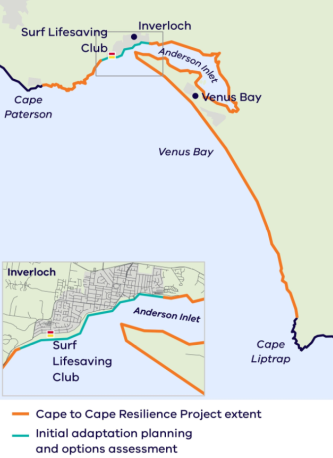 Understanding coastal hazards
Various technical investigations will help inform the project including a regional Coastal Hazard Assessment. This assessment will look at the geological formation, historic and recent changes on the coast and model the potential impact of predicted future changes, including rising sea levels and changing wind and wave climates. Coastal hazards to be assessed will include erosion (sand loss) and inundation (flooding). Possible impacts of changing coastal conditions on the surrounding catchments and groundwater systems will also be examined.
The outcomes of this assessment will help us to better understand some of the complex processes impacting our coastline and surrounding areas. It will identify areas and assets that may be vulnerable to coastal hazards and changing climate conditions in the future. This knowledge will help to inform the development of possible management or adaptation responses.
What do we mean when we talk about adaptation?
Adaptation can be defined as 'the process of adjustment to actual or expected climate and its effects'.
There are a range of actions that can be considered for mitigating coastal hazard risk and adapting to climate change. These may include actions associated with planning, capacity building, engineering, or other themes.
In considering options to mitigate coastal hazard risk, the Victorian Marine and Coastal Policy (2020) provides direction to respect natural coastal processes, apply an adaptation pathways approach, and to consider options in the following order:
| Option | Policy (2020) | Adaptation planning considerations |
| --- | --- | --- |
| Non-intervention | Allow marine and coastal processes, and the hazards they may pose, to occur. | Triggers (event, timing, other) would be identified for when additional action could commence. |
| Avoid | Locate new uses, development and redevelopment away from areas that are or will be negatively impacted by coastal hazards. | This option typically applies for all areas. |
| Nature-based methods | Enhancing or restoring natural features to mitigate coastal hazard risk. | This may include dune nourishment, enabling landward migration of habitat, and potential hybrid nature-based approaches (e.g. living shorelines). |
| Accommodate | Structures can be designed to reduce the exposure to, or decrease the impact of, coastal hazard risk, thus 'accommodating' the risk. | This may include movable infrastructure (e.g. life-saving towers, stairs/ramps) flood resilient building design, resilient materials. |
| Retreat | Existing structures, assets or uses may be decommissioned or relocated away from areas that are, or will be, negatively impacted by coastal hazards. | This may apply locally or more broadly as part of the adaptation planning process. |
| Protect | Existing physical barriers are enhanced, or new ones constructed, to mitigate the impact of coastal hazards. Protect is an option of last resort; it is often expensive, its benefits tend to be very localised, and it frequently transfers the problem to nearby areas. | This may include seawalls or other physical barriers/structures or interventions (groynes, breakwaters) that are likely to have significant impact on natural coastal processes. |
Adaptation actions are not mutually exclusive, and often a suite of measures is required to effectively manage coastal hazard risk.
A pathways approach enables a range of actions to be identified, and their relative sequence, timing, and triggers for implementation from present day to longer-term (2100). The feasibility of actions may change over time, as conditions change, and adaptation pathways are regularly reviewed.
The Cape to Cape Region Coastal Hazard Assessment will help us to identify the range of suitable adaptation options for Inverloch, to inform our resilience and adaptation pathways planning.

Listening to the community
A Stakeholder Reference Group has been established to support the Cape to Cape Resilience Project, bringing together people from our community, with a range of interest areas and backgrounds. This group will bring local knowledge and some community perspectives to the project and help to share project information with our broader community.
In addition to the Stakeholder Reference Group, we want to hear your views as well.
How to participate
Community consultation is a key input to the Cape to Cape Resilience Project. Stakeholder and community engagement will be happening throughout the project and will be tailored to align with and inform key elements of the technical work.
Email capetocape.project@delwp.vic.gov.au to receive regular progress updates and notifications of public meetings.
Community Values Study
From late July to early September 2021, we invited people who live in or visit Inverloch, Venus Bay and nearby communities to share their local coastal values and experiences of coastal hazards, such as erosion.
You can find the full details of this engagement in our Community Values Study, or a snapshot of the findings below:
Values and Experiences Survey (Snapshot) October 2021
Community Values Study December 2021
Stage 2 engagement will focus on risk and vulnerability, and will commence in the coming months.
Frequently Asked Questions
Page last updated: 11/01/22