The coastline around Inverloch, Venus Bay and Anderson Inlet is a beautiful and dynamic part of the landscape. Natural processes such as winds, waves, tides, currents and catchment flows move sand and sediments, reshaping the coastline. These processes sometimes impact on places we value, and the way we use the coast.
The coastline at and around Inverloch has experienced significant erosion in recent years. Public assets, values and infrastructure are now at risk of damage and loss.
To proactively plan for managing future changes to the coastline, we're delivering the Cape to Cape Resilience Project. This project will combine the latest science, technical assessments and community aspirations to develop a long-term plan to manage important places, assets and other values in the future.
The Inverloch Regional and Strategic Partnership
Many agencies are responsible for managing coastal and marine areas. A Regional and Strategic Partnership (RaSP) brings these agencies together to respond to key issues. The Inverloch RaSP is the first RaSP established under the Marine and Coastal Act 2018, and has ten partners – Traditional Owners, the Bunurong Land Council Aboriginal Corporation, and nine agencies with responsibility for managing coastal land, assets and infrastructure in the Inverloch region.
The Inverloch RaSP will work with the community to address ongoing and future coastal erosion and inundation impacts. This includes delivering the Cape to Cape Resilience Project.
Cape Paterson to Cape Liptrap - the study area
The study area for the Cape to Cape Resilience Project is between Cape Paterson and Cape Liptrap. The area of interest includes:
The open coast from Cape Paterson along the coastal cliffs adjacent towards Inverloch
The open foreshore and surf beach at Inverloch
The dynamic estuaries and tidal mudflats of Anderson Inlet
The open coast and dunes of Venus Bay south to Cape Liptrap
Inland from the coastline, allowing for assessment of estuary and groundwater impacts.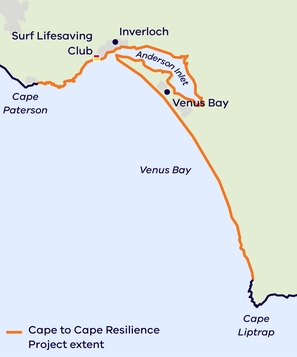 Understanding coastal hazards
Various technical investigations will help inform the project including a regional Coastal Hazard Assessment. This assessment will look at the geological formation, historic and recent changes on the coast and model the potential impact of predicted future changes, including rising sea levels and changing wind and wave climates. Coastal hazards to be assessed will include erosion (sand loss) and inundation (flooding). Possible impacts of changing coastal conditions on the surrounding catchments and groundwater systems will also be examined.
The outcomes of this assessment will help us to better understand some of the complex processes impacting our coastline and surrounding areas. It will identify areas and assets that may be vulnerable to coastal hazards and changing climate conditions in the future. This knowledge will help to inform the development of possible management or adaptation responses.
A strategic approach to adaptation
Once we better understand our hazards and potential at-risk areas along our coastline, we can identify different ways to manage these locations through adaptation. Adaptation can be defined as 'the process of adjustment to actual or expected climate and its effects'.
Management actions that will help us adapt to current and future coastal hazards will be informed by community views and preferences. We will initially focus on developing management options for the Inverloch foreshore because that is where the significant impacts of erosion on coastal land have been occurring. Feasibility studies will be undertaken for key management options.

Listening to the community
A Stakeholder Reference Group has been established to support the Cape to Cape Resilience Project, bringing together people from our community, with a range of interest areas and backgrounds. This group will bring local knowledge and some community perspectives to the project and help to share project information with our broader community.
In addition to the Stakeholder Reference Group, we want to hear your own views as well. You can get involved in the project by telling us:
What is important and meaningful about the coast to you
What you have experienced by living near or regularly visiting the coast
What you would like to see happen in the future.
Your knowledge and views are essential and will help inform and strengthen the project and its outcomes.
How to participate
Community consultation is a key input to the Cape to Cape Resilience Project. Stakeholder and community engagement will be happening throughout the project and will be tailored to align with and inform key elements of the technical work.
Online consultation via Engage Victoria is now open
Members of the public who live in or visit Inverloch, Venus Bay, Andersons Inlet and nearby communities can share their local coastal stories and feedback via a range of activities, including an online survey and interactive map. Feedback from these activities will help inform a community values study and coastal risk and vulnerability assessment.
Find out more and help decide the future management of our iconic coasts at Engage Victoria.
Consultation is open until Sunday 22 August.
Community events
Due to recent Coronavirus (COVID-19) restrictions, in-person community consultation has been delayed.
We've now confirmed some dates and times for our two virtual community sessions.
If you're interested in joining the session, please register at the links above. We will send further details and link for the virtual sessions to our registered attendees, a bit closer to the time.
By having a good handle on numbers, it will help us to plan the session accordingly, to make the online format more interactive and engaging, so please sign up over the next week.
Email capetocape.project@delwp.vic.gov.au to receive regular progress updates and notifications of public meetings.
Frequently Asked Questions
Page last updated: 02/08/21