The coastline around Inverloch, Venus Bay and Anderson Inlet is a beautiful and dynamic part of the landscape. Natural processes such as winds, waves, tides, currents and catchment flows move sand and sediments, reshaping the coastline. These processes sometimes impact on places we value, and the way we use the coast.
The coastline at and around Inverloch has experienced significant erosion in recent years. Public assets, values and infrastructure are now at risk of damage and loss.
To proactively plan for managing future changes to the coastline, we're delivering the Cape to Cape Resilience Project. This project combines the latest science, technical assessments and community aspirations to develop a long-term plan to manage important places, assets and other values in the future. The study area for the Cape to Cape Resilience Project is between Cape Paterson and Cape Liptrap.
This project is being undertaken in two key stages, you can find out more about each Stage below.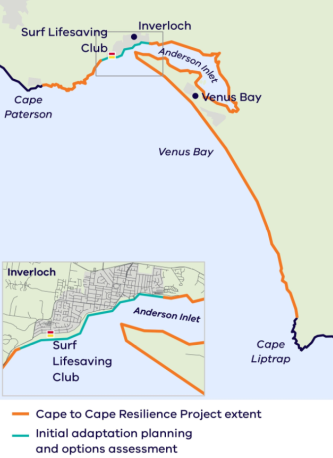 Project updates and factsheets
Read the latest project updates and factsheets here.
The Inverloch Regional and Strategic Partnership
Many agencies are responsible for managing coastal and marine areas. A Regional and Strategic Partnership (RaSP) brings these agencies together to respond to key issues. The Inverloch RaSP is the first RaSP established under the Marine and Coastal Act 2018, and has ten partners – Traditional Owners, the Bunurong Land Council Aboriginal Corporation, and nine agencies with responsibility for managing coastal land, assets and infrastructure in the Inverloch region.
The Inverloch RaSP will work with the community to address ongoing and future coastal erosion and inundation impacts. This includes delivering the Cape to Cape Resilience Project.

Stage 1
Over the past two years, we have delivered Stage 1 of the Cape to Cape Resilience Project. This extensive scope of work has produced various technical, strategic and engagement assessments. The outcomes of this work allow us to better understand the region's coastal hazards and possible implications for our local communities, now and into the future. This work has included:
New research through a Coastal Hazard Assessment (CHA)
Coastal hazard modelling, maps and spatial data layers
Extensive community engagement and Community and Cultural Values studies
A coastal risk and vulnerability assessment
Economic base case for coastal hazards
More information about these outcomes can be found in the drop downs below.
Stage 2
We have now started Stage 2, the development of the Cape to Cape Resilience Plan. A resilience plan will allow us to strategically manage coastal hazards, increasing our region's resilience into the future. It will include:
managing recent changes seen along Inverloch's coastline
long-term coastal hazard resilience and adaptation planning to enable the Cape to Cape community to respond and adapt to climate change impacts on the coast.
Adaptation can be defined as 'the process of adjustment to actual or expected climate and its effects'.
There are a range of actions that can be considered for mitigating coastal hazard risk and adapting to climate change. These may include actions associated with planning, capacity building, engineering, or other themes.
In considering options to mitigate coastal hazard risk, the Victorian Marine and Coastal Policy (2020) provides direction to respect natural coastal processes, apply an adaptation pathways approach, and to consider options in the following order of:
non-intervention
avoid
nature-based methods
accommodate
retreat
protect.
More information about the approach to adaptation and these options can be found in Factsheet #6 Strategic Approach to Adaptation here and Factsheet #7 Adaptation Actions here.
Adaptation actions are not mutually exclusive, and often a suite of measures is required to effectively manage coastal hazard risk.
Stage 2 will determine which adaptation options and actions are the most suitable for managing hazard risk for the region.
Listening to the community
Speaking with our community is key to the Cape to Cape Resilience Project. Our stakeholder and community engagement is happening throughout the project and will be tailored to align with and inform key elements of the technical work.
As our project team continue with our adaptation and resilience planning, we will also continue to talk to our key stakeholders and our community.
Engagement to date
Our work to date has already explored a range of topics relating to coastal hazards and their management with our community:
community values, usage and enjoyment of the Cape to Cape region's coastal areas
perceived threats to these values and uses
what the community hopes to see in the future
ideas, perspectives and preferences that may enable us to adapt and increase our resilience
How to participate
Hearing ideas and perspectives from the Cape to Cape communities remains an important part of this project and will help to shape the adaptation pathways and actions for the region. Extensive and targeted community and stakeholder engagement is happening throughout Stage 2, to help inform our Resilience Plan. We'll be popping up around the region over summer to talk to residents and holiday makers. The range of engagement activities will also include drop-in sessions and stakeholder roundtables.
Email capetocape.project@delwp.vic.gov.au to receive regular progress updates and notifications of public meetings.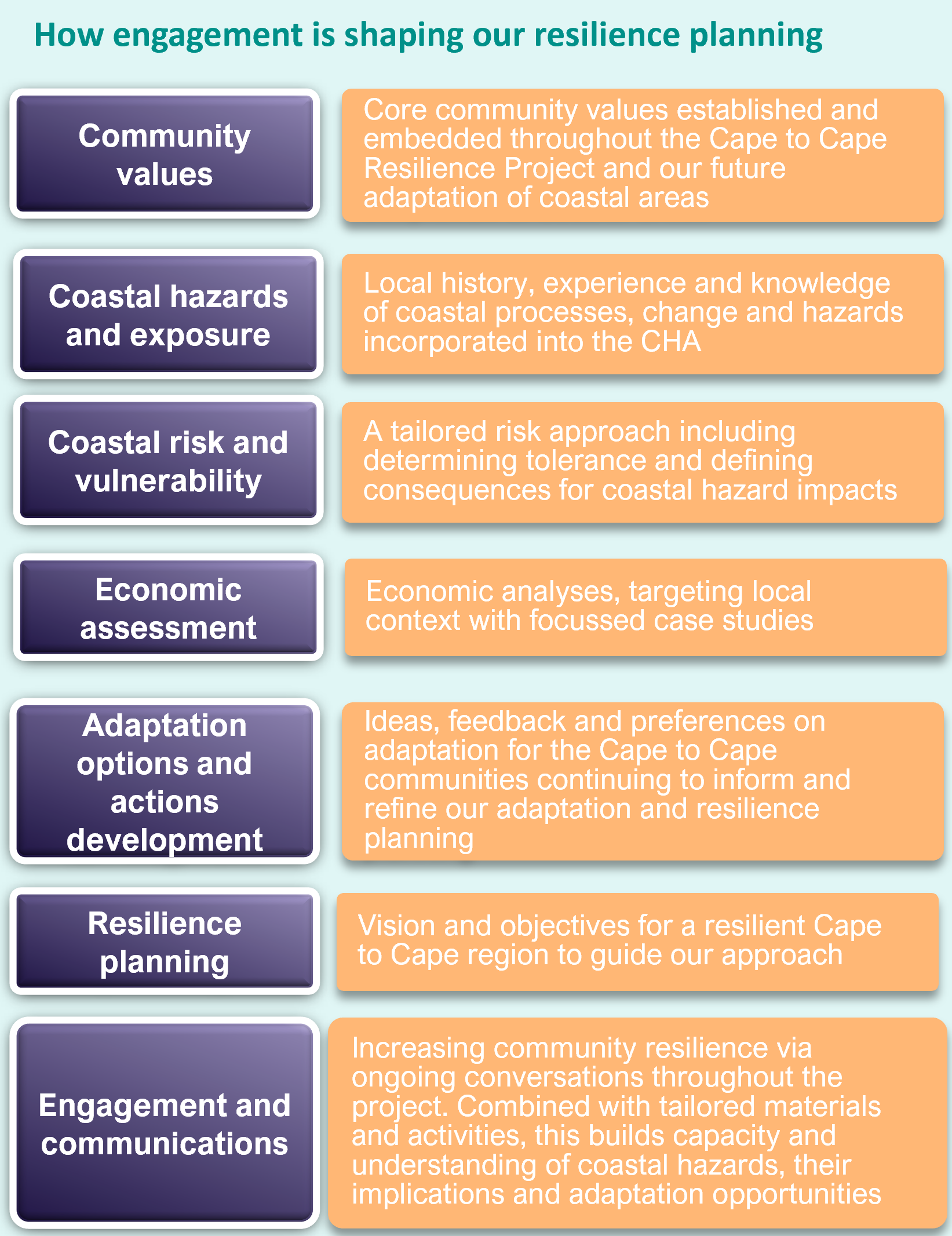 Project Frequently Asked Questions
Page last updated: 14/12/22