CoastKit has been developed by DELWP to provide an online data repository for the community to explore and use Victoria's marine and coastal information. CoastKit promotes standardised data classification for collection, reporting, monitoring, assessment and evaluation.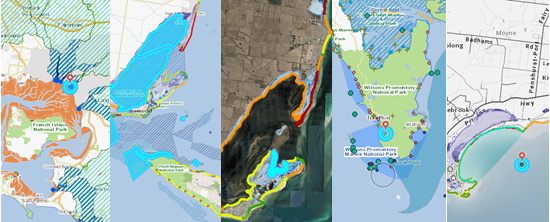 The CoastKit web portal allows you to zoom in and out, pan around the map, identify features, overlay map layers, perform queries, and create printable pdf maps or images.
The site is structured for easy navigation and displays information on the following themes:
Beaches of Victoria
Coastal Assets, Infrastructure and Shorelines
Coastal Hazard Assessments
Coastal Wetlands and Waterways
Fish Habitat Distribution Maps
Marine and Coastal Feature Atlas
Port Phillip Bay Environmental Management Plan (EMP) - spatial representation of project and activity locations that occur within Port Phillip Bay and its catchments.
Victorian Biotope Atlas
Planning and Administration
Bathymetry and Topography
All datasets displayed on CoastKit can found in the public domain and curated for inclusion on the Victoria Spatial Data Library, aligning with data sharing best practice standards.
Page last updated: 26/11/20